Credit
Credit that

can do more
Issue, manage and control credit cards and products, at scale. Offer new products and services, with unprecedented ease, customisation, and agility.
BNPL
Buy Now Pay Later, for every mobile device
BNPL is the current product of choice for digital businesses and customers alike. We enable integration of BNPL, and numerous other next-generation features, without disruption to your ordinary activities and services.
With the API power, speed, flexibility and data-richness of our Platform, you can trigger offers, delivered via mobile, based on highly granular customer behaviours. Or, even switch payments to BNPL post-purchase, if the criteria you choose are met.
Set your own criteria for eligibility
Flag a transaction as eligible to be converted into a loan – with a predefined or variable payback period and margin – based on highly specific criteria, set by you.
Convert purchases to instalments
If specific conditions are met, customers can convert transactions to be paid back in equal monthly instalments, once the loan is initiated.
Perfectly targeted customer offers
Now, you can identify key behaviours and conditions, in real-time. Then, trigger broad, or ultra-specific, products and service-offerings to suit them.
Evergreen credit
Revolving credit.
With superpowers
We enable all the capabilities associated with "traditional" revolving credit, at the highest possible level, while also allowing you to design, deploy and control whole new worlds of modern product opportunities, with ease and simplicity.
Switch over easily
Easily switch to our Platform, while giving your customers all the services and stability they know, love and expect, without interruption.
More options
Gain an order of magnitude more functionality, flexibility, speed, and data insight; giving you exponentially more product options.
Clear, complete data
Take much greater control over interest rates (adjustable for different instances) and other variables, old and new, with total data transparency.
Instalments
Convert purchases into instalments
A feature that's rapidly gaining traction globally. Simply put, it allows you to initiate BNPL features, on a post-transaction level. Our Platform has the stability, API sophistication, speed and flexibility to integrate this, and many other next-gen products like it, quickly and smoothly.
Add instalments, post-purchase
Trigger an offer to convert a portion of a credit balance into BNPL when customers are eligible. Eligible customers can convert some or all of their credit balance into instalments. This gives you more control, and customers, more options.
Atomic-level data insight
Our data is broader, faster and more interpretable, and our Platform, much more flexible. We enable a giant leap forward in understanding your customers, and providing exactly what they need, when and where they need it.
Out-of-the-box offerings
Our unmatched, RESTful, secure APIs are built from the ground up, enabling extreme functionality and rapid transaction speeds, immediately available, from the outset.
The control is in your hands
Data insights
Rapid, meaningful data-analysis
Make calculated, evidence-driven decisions to tangibly enhance customer experiences, even at an individual level. With our FAST Feed's 120 lines of rich, layered data, you gain deep, actionable, real-time customer insight.
Decision Engine
Full control over everything
Our PayRule.AI decision engine lets you set ultra-granular rules, with our more sophisticated, secure, RESTful APIs. You can even allow customers the freedom to make their own rules; enhancing your products and relationships.
Powerful APIs
We're API-driven
We offer the most sophisticated, secure, RESTful, issuer-processing APIs in the world, featuring ground-breaking fraud, risk, loyalty and filtering mechanisms – right down to a card or merchant level – across all card types, including debit, prepaid and credit.
Security
Maximum security & privacy
Process financial data in multiple layers of security and end-to-end encryption, at the highest, most sophisticated levels in the world. Our data is secured at all points – at creation, in transit, and at rest.
You're in control
PayControl
PayControl is our full suite User Acceptance Testing (UAT) platform, giving our customers full control by enabling you to easily:
View API documentation.

Create sample code in any programming language.

Create test cards.

Simulate transactions.

Create transaction rules.

Run volume testing.

Create accounts and cards.
api_call_unique_identifier:
438574845790657485
,
remarks:
"Creating card For Customer"
,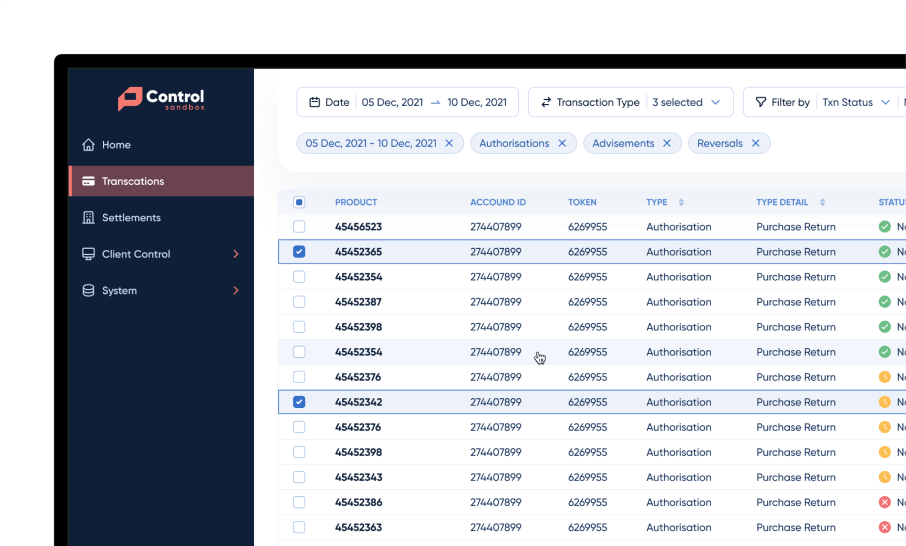 It's how we evolve
The most powerful APIs
We build the world's most powerful APIs, in-house from the ground up. This creates seamless, modular flexibility, which means our clients can easily:
Access any piece of data, anytime, in any time period, across cards, consumers, and programmes.

Automate manual back-office reconciliation.

Automate chargeback processes.

Increase back-office efficiency and decrease OPEX.

Empower customers to resolve their own queries.

Eradicate query tickets common with other providers.

Test products in minutes.

Decrease second-line fraud disputes.

Empower financial crime teams to test new rule sets.

Protect data with marker/checker and 2FA
Start innovating your
payments with us
Our Platform supports large-scale innovations. We shepherd our clients not only into, but to the forefront of the Digital-payment Era.
Let's get started...